Links: | Home | Site Index |

Flag and Banner Info Page Index (Click on a topic to go to it.)
Why an Angle Flag(tm)
Best Materials and Construction
Caring for your flag
Standard Sizes and Price Comparisons for the designs in our Design Collections
Orientation (Direction) of Angle Flags(tm)
Special Colors for the designs in our Design Collections
Adding Lettering to the designs in our Design Collections
---
Why an Angle Flag(tm)
The angle shape has a lot of advantages. Since it hangs flat without folding, you can see the design clearly. An Angle Flag(tm) doesn't wrap up around the pole because the bottom inside corner is tied. The bracket for an Angle Flag(tm) doesn't have to be mounted as high on the wall, which makes it easier to take your flag in and out. Finally, the angle shape looks nice.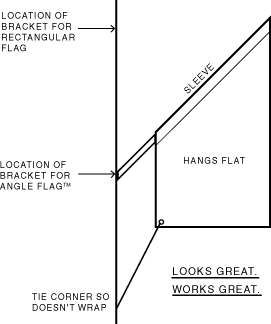 Go to top of "Flag and Banner Info" Page
---
Best Materials & Construction
The primary fabric we use is a nylon made especially for flags, and we find no other fabric to be as good for all-around use. It is a 3.2 oz. Dupont SolarMax(tm) nylon that has been treated with UV inhibitors to slow and reduce fading. It dries quickly and resists mildewing. It's translucent, so you get a nice stained-glass effect when light shines through it. We use heavy polyester sailmakers thread in the hems. The grommets are brass spur grommets. (Spur grommets have teeth which bite into the fabric to prevent pulling out.) We put five rows of stitching in our hems instead of the usual two or three. We zig-zag our designs twice, instead of the usual once. All of this makes our flags look better and last longer.

For people who have their flags in a location with a lot of intense sun, we sometimes use Sunbrella(tm) instead of nylon. Sunbrella(tm) has advantages and disadvantages. The big advantage is that it takes three or four times as long to fade as nylon. However it is not translucent, and it doesn't come in as many colors as nylon. It's also a somewhat coarser fabric. Sunbrella adds about 50% to the cost of a flag. We have a lot of customers with sunny locations who find Sunbrella(tm) to be just what they need.

For rectangular flags to be used on an upright pole and flown in a lot of wind, we sometimes use a polyester fabric for the background. This is a 2-ply, 100% woven, spun polyester fabric with an open weave and with a look similar to cotton. It was developed for U.S. flags and stands up to wind better than any other fabric. It's a somewhat coarse fabric (compared to nylon), so it's not great for an image with fine detail. Unfortunately, it only comes in red, white, and blue. But for a flag in a lot of wind on an upright pole, this polyester can't be beat.
Go to top of "Flag and Banner Info" Page
---
Caring for your Flag
(To Make it Last Longer)
1.) Sun and wind are the two worst enemies of your flag. Ultraviolet light causes fading and eventually breaks down nylon fabric. The fabric we use is especially made for flags and is treated with UV inhibitors which reduce and slow the effects of ultraviolet light, but the inhibitors cannot completely eliminate these effects. Summer sun causes much more fading than the less-bright sun at other times of the year. Anything you can do to avoid bright sunlight will lengthen the life of your flag. Things you can do include putting the flag in a shadier spot, putting the flag out less often, and rotating the flag with other flags.

2.) High wind (especially high wind combined with the increased weight of a wet flag) strains your flag. You don't need to bring it in every time it gets windy or rainy, but if there's very high wind or high wind combined with rain, you'll increase the life of your flag by bringing it in. Cold, snow, and rain alone do not hurt flags.

3.) Be sure your flag doesn't rub or scrape against anything when it blows. Blowing against something sharp will tear your flag, and then it will fray apart very quickly. Rubbing against a rough surface will wear out fabric and stitching in a short time. Be sure your pole is long enough. A Large Angle Flagtm needs a six-foot pole—it will fit on a five-foot pole but will be too close to the building and will rub against it. A Small Angle Flagtm needs a four-foot pole.

4.) The colors in our flags do not run, but some colors (especially reds) can bleed if a wet flag is folded with a light and a dark area touching. Also, storing a flag wet will cause it to mildew. So if you bring your flag in wet, dry it flat before putting it away.

5.) Washing your flag occasionally will make it look nicer and will remove damaging chemicals from acid rain and pollution. You can wash your flag in the washing machine. In order to avoid having colors bleed, be sure to remove it promptly and to dry it flat. It's OK to iron with medium heat to get out wrinkles.

6.) Check your flag often for wear. Usually the hem in the corner that flaps will be the first spot to need repair. If your flag needs repair, fix it immediately. The longer you wait and allow the fabric to fray, the harder the repair will be to do. We repair flags. Fixing a hem that hasn't gotten bad usually costs about $15. The thing to do is send us the flag, and we'll give you a price quote before we do anything.
Go to top of "Flag and Banner Info" Page
---
Standard Sizes & Price Comparisons for our Design Collections
| | | |
| --- | --- | --- |
| Scale Drawing | Name/Description | The Design Collection pages list prices for Lg, Sm, and Rect. This shows how those prices relate to our standard sizes. |
| | Large Angle Flag(tm) (Our most popular size): 36" W x 66" H | Lg |
| | Small Angle Flag(tm): 25" W x 45" H | Sm (= Lg price minus $15) |
| | 40"Hx60"W Flag (for upright pole) | Rect (= Lg price + $10) |
| | 60"Hx40"W Banner ( choose sleeve or grommets) | Rect (= Lg price + $10) |
| | 60"Hx40"W Banner (with dowel in sleeve) | Rect + $15 (= Lg price + $25) |
| | 42"Hx28"W or 36"Hx24"W Banner | Lg minus $10 |
| | Window Banner--42"Hx28"W or 36"Hx24"W (with dowel in sleeve) | Lg |
We can do other sizes custom.
Banners can also be backed to hang on a wall.
Go to top of "Flag and Banner Info" Page
---
Orientation (Direction) of Angle Flags
The image shows on both sides of our Angle Flags(tm), but the side that is sewn first (let's call it the "first side") has a slightly cleaner look to it. It usually doesn't matter which side of the flag is the "first side", but sometimes when a flag is going to be viewed close-up, you might want the side that will be seen the most to be the "first side". Our standard orientation is shown below with the "first side" facing you. If you prefer, we can make your flag with reverse orientation as shown below. The charge for reverse orientation is $5.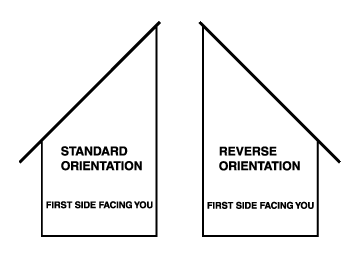 Go to top of "Flag and Banner Info" Page
---
Special Colors for Design Collections
We can do any of our designs in special colors. The charge for this is $5 for one color, and $10 for two or more colors. We're glad to discuss simple color changes with you at no charge. However if you want us to figure out complex changes--for example completely re-coloring something with many colors, we'd have to treat that as a custom job.
Go to top of "Flag and Banner Info" Page
---
Adding Lettering to Design Collections
The cost of lettering can vary depending on the complexity of the lettering style (font), on the size of the letters, as well as on other factors.

In order to have lettering read correctly on both sides, we have to sew it on a block of fabric for each side of the flag and then sew the blocks back-to-back on the two sides of the flag. Opaque material is put inside the block to prevent the letters from showing through from one side to the other. Blocks can be different sizes and shapes, but by far the most common kind is a rectangle at the bottom of the flag. A dark color block on the bottom of the flag with light color lettering seems to "ground" the flag. If most of the flag contains lettering, we can double-up the entire flag instead of using a block.

We heat cut letters and then zig-zag them on. This process gives a much sharper, cleaner letter than the usual applique-and-cut-away method.

Usually a rectangular block costs $37, and letters cost $8.50 each. (You only count the letters on one side of the flag.) This can vary though. We give you an exact price for lettering when you place your order.
Go to top of "Flag and Banner Info" Page
---
BISGROVE DESIGNS • Master Flagmakers(tm) • 800-338-0359 • Fax 978-465-0309
http://www.bisgrove.com • bisgrove@bisgrove.com
Links: | Home | Site Index |